Hosting a bone density testing day is as easy as 1, 2, 3…. and 4:
Do you have a small area or room, with a plug socket, that measures 8ft by 6ft? Do you have a table, and two chairs? Then you have all I need for me to come and visit you!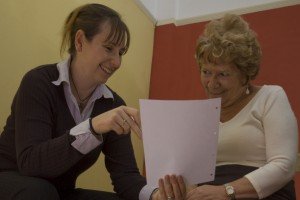 1: Call me – I will arrange a date and time to come and visit you – (a minimum of four weeks in advance). I'll take all of the details I need off you there and then. The things I need to know are pretty simple, like where you are, where I can park, and what your busiest times are so that we can decide which hours to work.
2: You arrange for the small area or room to be available on the day i'm due to arrive.
3: I send you all of the promotional material you need to host the day. If you have clientele you can access via email, I'll send it to you online – if not, I'll post you a parcel – recorded delivery. Put the posters up, put the leaflets out (or send the emails of course), and tell EVERYONE – your staff, your members, your local chippy, pub, and radio – that I'm coming! I do need an appointment system – it's up to you if you take bookings or I do. If it is you, I'll send you booking sheets.
4: Take bookings! In the run up, I stay in touch with you by email or phone. Of course, you and your members are welcome to contact me with any questions.
Then all you have to do is look forward to meeting me on the day! I arrive about an hour before the first appointment to give myself time to set up. If it feels as if it really can't be as simple as this – well, it is, but I can give you a bit more detail when I speak to you! Hope to hear from you!